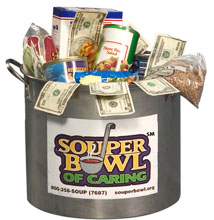 At WPC, we are blessed to be a blessing to others! This is the model of Abraham whose story is found in Genesis 12. Every member is encouraged to volunteer in our community in some capacity. The local ministries WPC actively supports with funds and/or volunteers include:
Brown Bag Blessing
Bread of Life Food Pantry
Shenandoah Alliance for Shelter
Response Women's Shelter
Woodstock Clothes Closet
The Free Clinic
Woodstock Library
Woodstock Ministerial Association
American Red Cross
Shenandoah Memorial Hospital
Blue Ridge Hospice
Woodstock Rescue Squad
Woodstock Fire Department
Skyline Terrace Nursing Home
Virginia Blood Services
Roy's Gym & Lighthouse Grocery
Volunteer Farm
---
BROWN BAG BLESSING
In 2012, we started a mission called Brown Bag Blessing. It was a simple concept...fill a brown paper lunch bag with sandwiches, fruit, chips, dessert and a drink, and hand them out on Tuesday evenings to those in need. It started slowly (the first four BBBs the month of 6/2012, served 15+10+17+22=59 bags that month), and has exploded (the last four BBBs the month of 10/2015, served 109+89+95+100=393 bags that month). WOW!
We are so blessed to be a blessing!
Below are "Little know BBB facts"
"Did you know…" …that on June 19th we celebrated BBB's four year anniversary. Thank you, Liza Coffman! …that Terry Johnston prepares 100 bags every week to make the sandwich team's Tuesday's work much easier. …that each fall, Paugh's Orchards provides a fresh apples for each bag. …that the congregation's food donations have helped hold the cost of each meal to $1.59. …that our BBB partners, New Hope Church, continue to provide volunteers and financial support. …that the Woodstock Food Pantry donated many pounds of sliced ham and that Carl and Alison Nelson "got it off the back of a truck." …that in September 2015 we delivered 463 meals with "love in every bag." …that the employees of the Shenandoah County Free and Dental Clinic deliver 6 loaves of bread to make into sandwiches every week.

In 2015, we served well over 3,200 PB and J sandwiches!
Each week for 2015 we served an average of 75 slices of cheese!
If we layed out the sandwich bread slices, side to side, that we have served in BBB in 2015, it would approach a mile in length.
In 2018, our numbers continue to grow and we now serve over 120 sandwiches each week! We can always use extra helpers even if it's only as a substitues, and we ALWAYS need donations in the form of supplies, and of course, monetary donations are greatly appreciated.
If you would like to volunteer or donate, please contact Terry Johnston at: tajohnston44@gmail.com, or call the office between 9-1 M-F.
Mountain Valley Mission Community Shower Trailer Project 2012
WPC embraced a new mission endeavor in 2012: the building of a Shower Trailer! Our mission community partnered with Presbyterian Disaster Assistance (PDA) to build a multi-stall shower trailer that can be transported easily to areas of disaster in the eastern United States.
WPC Session approved Outreach Committee's recommendation to donate $2,000 to the project. The total cost to build the shower trailer was $15,000. The trailer was built by people in our mission community. MVMC is made up of 19 Shenandoah Presbytery churches in the northern end of the presbytery; WPC is the southernmost mission community church.