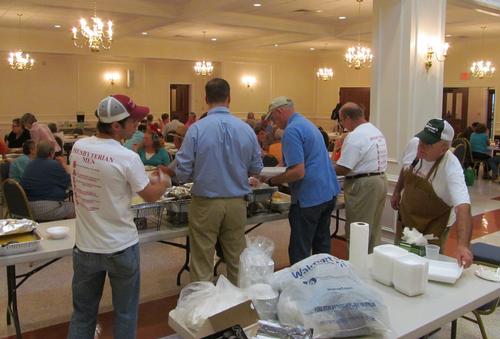 Fun and fellowship abound at WPC! If you're looking for a church that truly enjoys having a good time together, you've found it! Throughout the year we plan a host of events and activities that promote nothing less than a good time! Whether it's the annual Worship in the Park BBQ lunch on the last Sunday in August, one of our Nearly Famous Pork Tenderloin Dinners, our monthly Fellowship Luncheon following Worship, or our monthly LunchTime-Out friends, you'll find us laughing together, talking and visiting with each other, and, of course, eating (a thing Presbyterians love to do)!
We also have special gatherings with the Presbyterian Women with Circle meetings and Prayer Shawl meetings, and the Presbyterian Men have their monthly Breakfasts on the fourth Sunday of each month before Worship. All are welcome with open hearts!
Each week following worship, members and guests are invited to the Fellowship Hall for refreshments and conversation with friends. What a great way to get to know one another!
In 2013, Hal Ladehoff began a new tradition at WPC. Every May, the over 80 seniors of our congregation are treated to a special luncheon in thier honor. Each year is a different theme from bygone days, from the 30-50's. Music is played from the era by Liz Sollenberger, and a guest speaker is invited. We thank Hal for taking the initiative to acknowledge how special our seniors are!
We also open our church throughout the year for the community to gather together. If you are interested in reserving the Fellowship Hall or other area of the church, please download the FACILITY USE APPLICATION FORM in the Forms and Applications page to the right, and either email it (wstkpres@shentel.net), or return to the church office at 142 E. Court Street, Woodstock, VA 22664.