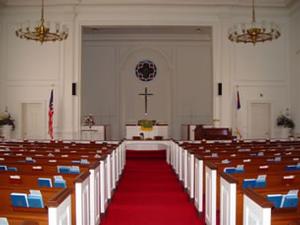 SUNDAY WORSHIP
With joyful response to God's love in Jesus Christ, the people of WPC gather on Sunday morning to worship and praise the risen Lord. During the school year (September – May) we worship at 11:00 am; during summer months (June – August) worship is held at 10:00 am.
Some highlights of our worship experience:
The Sacrament of Holy Communion is celebrated on the first Sunday of each month; all those who are baptized are welcome to receive the Sacrament
We worship on Maundy Thursday and Christmas Eve, with Holy Communion celebrated at both services
Worship in the Park is held each fourth Sunday in August.
Our annual Heritage Festival & Worship is held each fourth weekend in October. This grand festival features a recognition of all heritages on Sunday morning, complete with bagpipes!

Families are always welcome to worship together at WPC. However, a Nursery for very young children is available for those who wish it. The Nursery is staffed by loving, attentive members of our congregation, and a trained, CPR certified professional.